Most people don't realize the big payoff of going to a wine-tasting event. There are many small payoffs, actually, which is why you'll find small and large groups tasting wines most everywhere. In my case, a local uberbabe invited me to a monthly gathering of the Seattle Wine Society. It used to be called the Seattle Enological society until there was a violent dispute about the spelling of "Oenological" and they changed it to "Wine."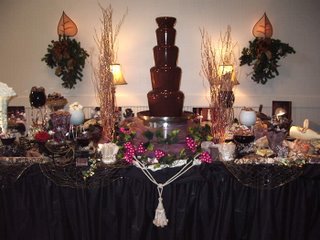 While most wine tastings are intimate affairs, and
some attempt to combine trendy spirituality with veiled alcoholism
, the Seattle Wine Society gathering is more like a high-school bake sale. $45 a couple gets you 10 tickets apiece, each good for a small pour of one of the dozens of wines set out. They have food stations with hors d'oeuvres, which each require their own special ticket, and desserts, which are there for the taking but which as a rule I don't eat.
Two kinds of people attend affairs like this. The first is the wine taster. The taster brings his own wine glasses, wears tweed and perhaps an ascot, and takes a mere sip of each offering before dumping the rest into the provided receptacles. He rinses his glass with water between tastes and perhaps finds some bread to cleanse the palate as well. He nods, wrinkles his nose, raises his eyebrows, and takes notes.
The second is the wine drinker. To the drinker, the point of the affair is to drink a healthy amount of the best wine possible. Uber and I were drinkers. On a tip we were directed to a table with wines from a vintner that makes custom-label wines for restaurants and corporate parties. These wines did not require tickets. Unfortunately they were pouring sparkling wine this month in recognition of the holiday season and we both prefer reds so we didn't guzzle the free stuff.
Of course local Northwest wines dominated the tasting and I discovered some new blood. The 2003 Silver Lake Winery Cabernet, rated Best Buy-outstanding by Wine Press Northwest, was just that. By the end of the evening, having used four or five tickets on the Silver Lake, we were on a first name basis with the volunteer pouring it and began ordering in French: "
Lac d'Argent, s.v.p.
" Alas, there were more than a few genuine oenophiles present and competition for the Silver Lake became fierce. As we set up a human wall around the Cab table, we joined forces with two uberhot winebabes who turned out to be sisters. When the last bottle of
Lac d'Argent
was gone, the diaspora began in earnest and soon we were on our way. We had learned about one nice inexpensive wine, but that was not the big payoff of the event.
No, like Thomas Edison, quoted for saying he had invented 10,000 ways not to make a light bulb, we had learned a dozen or so wines not to order. And
that
was the big payoff.