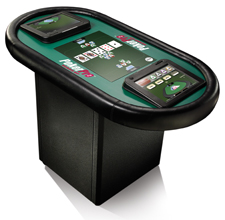 One of my favorite foods growing up was Peking Duck. Last night I took a couple gambling buddies, Benjie and Simon, and my old friend Kevin Hogan to Wynn's Wing Lei restaurant for the fabulous five-course Peking Duck dinner, washed down with a couple bottles of 2002 Dalla Valle Cabernet. Kevin had to take a redeye home after dinner but Simon and I went over to the Imperial Palace to check out the
new heads-up PokerTek table
at the release party all the bloggers had been invited to. By the time I got there the room was littered with empty cans and Chardonnay bottles but a few conscious bloggers were playing play-money poker. I grabbed an empty seat at the 10-handed table and played a sit-and-go, which I won using optimal game theory, although
Joanne
inexplicably beat me in a heads-up match.
The party descended to the Geisha bar where the sober, Argus-eyed
Michael Craig
wove through the interstices of the swaying assembly and took furious notes for future blackmail use against the besotted bloggers.
Iggy
held court as usual, the pokerbabes crowding around to be in the presence of his movie-star looks. Mike whipped out a couple of expensive cigars and we enjoyed the last night in the company of the few fellows bitten by not only the poker bug but also the writing one.