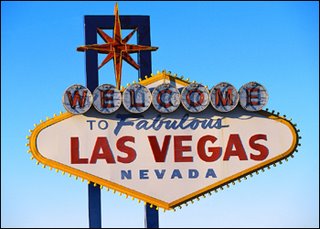 Every young man, on his first trip to Vegas as an adult, has one great misconception about the town. It's not about gambling. No, people don't really expect to win. It's not about getting a bargain. No, people really expect to be ripped off. No, there's a greater misconception and it's universal among men. What is it? Read on.
My online poker buddy
Kyle
and his best friend
Tyler
had been looking forward to their first post-21 trip to Vegas, planned for right after finals, and I made sure I was in town to properly show them the sin in Sin City. Naturally the first stop was the Caesars Palace Seven Stars Lounge and uberbabe Elisabeth. We got there just before closing but she made a mean martini and launched us to the poker room, where we tried in vain to start up a game of HORSE. We played some 3/6 Hold 'Em into the wee hours.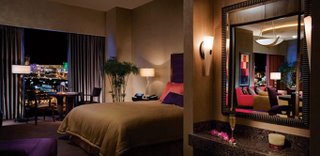 The boys had booked an economical package including a room at Harrah's that was virtually free. I decided to pull a few strings and get a penthouse suite at the Palms, which I handed them the keys to. You shouldn't have to stay at Harrah's your first night in Vegas. Kyle liked the steam room but Tyler was all over the five-head shower with light show.
As loyal readers know, my favorite Vegas sin is gluttony. I exposed the boys to some fine victuals – Little Buddha and Nove at the Palms, with a brief stop at the Playboy Club, and Vic and Anthony's and Grotto at the Golden Nugget. At Vic and Anthony's, one of the best old-school steakhouses in town, we uncorked some fine vino: 1999 Veuve Clicquot Ponsardin Rosé to start, followed by the 2002 Stag's Leap Fay Cabernet. I remembered to ask them to leave the butter off the steak and we thoroughly enjoyed the meal. Grotto was unimpressive but they had a nice inexpensive Italian wine list and we were accompanied by an uberhot pokerbabe geek girl we ran into at Caesars who I had previously met at Binion's.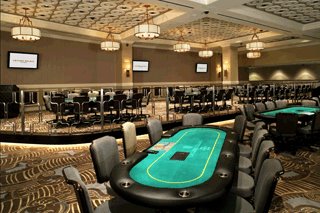 The next two nights we got a great 4/8 HORSE game going at Caesars. The boys kept asking about going to a strip club but we ended up playing low-stakes poker every night instead. You see, that's the great misconception about Las Vegas, that it has phenomenal, earth-shattering strip clubs. In reality, the sex industry in Vegas is overpriced and underdelivers. Like many facets of this money-machine town, it's a sucker game.
But I told the boys to take a detour next time they're near
Tampa
.