With most of my friends leaving Las Vegas by Monday night I still had one more day of shopping to take care of, the nadir of which was a ballroom hallway filled with smokers at Caesars Palace getting their two-week reprieve from being forced to be considerate. I spoke to a lady who said she had asked a security guard what they were doing about the smoking ban. "Nothing," the guard said, "because we don't have to."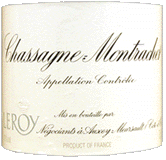 The apex of the day was dinner at Okada with gambling buddy Alan. Sabrina the teenage sommelier picked out a fabulous 1990 Chassagne-Montrachet Maison Leroy. I rarely drink older Pinot Noirs because I don't know how to avoid the ones that have become weak and watery but this one was in top form, lush and winy. Sabrina rarely lets me down. As usual we invited her to hang out with us after work and as always she politely declined. Because she is as beautiful as she is talented Sabrina has developed an elaborate fable about being engaged to a guy in another State to fend off all but the most persistent admirers. My usual opening lines ("Hello, I'm incredibly wealthy" and "Are you a stripper?") seemed inadequate to the task.

Alan and I ate very healthy, mostly sashimi, though I added a delicious miso-glazed black cod. While the meal was fish from soup to nuts, the table talk was an olla podrida of topics. To call Alan an excellent conversationalist is an unfair underselling of his talents. I frequently tell him he could be one of the top talk-show hosts in the world. He not only has a wealth of knowledge and strong opinions on practically everything, but he also can rattle off a ten-minute extemporaneous monologue replete with dramatic structure, suspense, and a punch line before opening the floor to questions. Tonight he explained to me why the movie
Running on Empty
, with Judd Hirsch, was perhaps the most perfect movie ever made and he couldn't understand why Hirsch wasn't acclaimed as one of the world's greatest actors. He also chided me for misstating in a prior blog entry that he showed me pictures of cats on his cell phone. It was actually on his iPod Nano.

After dinner we made a smooth segue to the heated terrace over the Lake of Dreams to smoke a pair of Cohibas and sip some Johnnie Walker Green Label. In walked a young Jewish-looking guy, who turned out to be named David, with three beautiful women, who all turned out to be from Toronto. The question, of course, was how does one guy end up with three girls? What's their relationship? I hoped to gather material for what is becoming my seamy underblog. I sent Alan over to chat them up and ask them if they were strippers. David claimed to be married to the most attractive of the group, a perfect young blonde barely out of her teens. The two brunettes made up some cockamamie story about accidentally meeting up in Vegas on separate vacations. We pressed further but they sensed we were getting close to the truth and beat a hasty retreat while Alan gave a monologue about what happens with women once you are comfortably in a relationship with them. I don't remember the whole thing, but it ended, "Women have a plan for the relationship and want you to follow it. They always have a plan. It just never works."