No Smoking signs went up all over Las Vegas this weekend, but it looks like Atlantic City is about to stay one step ahead by
banning smoking in casinos altogether
. In Vegas you can still smoke in bars that don't serve food and are not part of restaurants, and of course outdoors, which is where smoking is best done. I was a big supporter of the ban but now that it's here, to quote gambling buddy Benjie, "I didn't realize just how bad it was gonna bite me in the ass." Read on.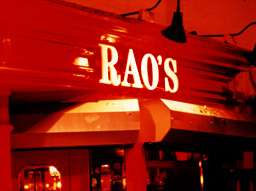 Benjie, who knows even more uberbabes than I do, took me to Rao's (pronounced "Ray-O's"), the new Italian restaurant at Caesars Palace, along with two of his top ubers. There was no smoking inside the restaurant but they were hoping the terrace lounge "outside" was OK and had the tables seeded with ashtrays and matches. I say "outside" in quotation marks because while the terrace is outside the restaurant, no matter how many clouds they paint on the ceiling it's still inside the hotel and I suspect the heath department will not allow smoking there.
Other than some minor service glitches expected from a restaurant open for less than a month (they kept topping off our Panna with tap water and forgetting to replace cleared utensils), Rao's is a great addition to the Las Vegas dining scene.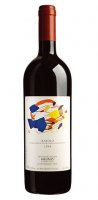 The primarily Italian wine list had a nice selection of mid-priced Barolos and Supertuscans and at the recommendation of the cute Asian sommelier Julie, we tried a Gaja Barolo I hadn't seen before. It was nice but about 45 minutes in, just as I was draining the last ounce, it really started to open up and became excellent.
April, our server, suggested eating family style so we ordered a couple appetizers, pastas, and a double order of sea bass to share. The clams and mussels in white wine and garlic were tremendous, as was the pasta with vodka sauce. The raviolis were sautéed in butter, which I found too rich for my taste, but the others loved them. Frankie Pellegrino, one of the owners in from the original location in New York, asked for and got feedback and then brought us a complimentary dessert barge in thanks. As a rule I don't eat dessert but the others loved it.
After dinner we headed over to Harrah's, where Benjie was taking a bunch of friends to the Improv. We scored a couple stogies and then realized all the usual places to smoke were either gone or so crowded because of the holiday weekend that they were hopeless. Restaurant bars and lounges were all non-smoking now. The outdoor seats by the pool were closed for the winter. We went up to the ballroom area but they had already plastered all non-casino hallways with No Smoking signs and changed all the combination wastebasket-ashtrays to simple trash cans. Finally we just sat down at a row of slot machines in high limit and lit up. The times, they are a-changin'.