Qantas 94 landed right on time in
Melbourne
and Daniel and I were among the first off. The Crown Casino was supposed to send a limo for me but the only driver from the Crown had a sign with Daniel's name on it.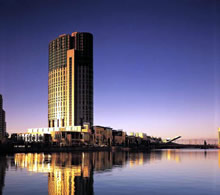 This kind of screwup happens all the time and Daniel graciously offered me a ride in his stretch limo despite the fact he had a camera crew there to meet him on arrival and ride in the limo with him. It was a quick ride to the
Crown
Towers
, where Full Tilt had booked rooms for all the pros and the online qualifiers. I followed Daniel and his entourage to the check-in area but it turned out he had a special check-in desk on the 29
th
floor called the Crystal Club. I was supposed to go to the regular check-in but they were nice enough to take care of me.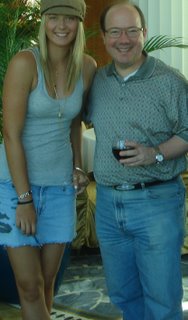 My room wasn't ready so I went down to the gym to work out. All the tennis pros here for the Australian Open were staying here and several of them were working out in the gym or out on the tennis courts. Many of them recognized me and one blonde uberbabe begged me to pose with her for a picture so I did. I don't watch tennis so if anyone knows who it is let me know.
The nice lady from the Crystal Club brought down my room keys to the gym so I went up and spent 15 minutes figuring out how to turn on the bathroom light. There were two switches and a dimmer, all three of which had to be turned on simultaneously. The bathroom scale was marked in dual measurements but unfortunately neither was pounds. They had kilograms and stones so I had my choice of multiplying by 2.2 or 14.
My plan for Melbourne is to eat a lot of fish. I already tried Tasmanian salmon and barramundi, both of which were superb. And of course the local wine is delicious. It feels weird to be drinking a 2006 Cabernet-Shiraz in January 2007 but I guess the growing season is six months earlier here.
Today there is a freeroll for all the Full Tilt online qualifiers with bounties on the pros. I'll pop up to the Crystal Club for breakfast with Andy "The Rock" Bloch and Doug "Canadian Superbomber" Lee. I hope those tennis pros don't swarm us again.