When I'm single I like to travel a lot. I met my second ex-wife in the Thai Airways first-class lounge in Bangkok, which I guess is a good place to meet nice Jewish girls from Toronto. I call it "Brownian motion," which if you took high-school chemistry you may remember is the way particles in liquid randomly move about and bump into each other. Being a geek guy I have a limited need for social interaction. When I'm married I don't seem to have the desire to go out and meet people, which doesn't seem to please the wife. When I'm single I turn into this kind of international playboy, workout hound, raconteur, clothes horse – if I could just kick this marriage habit I'd be fine.
Anyway I still remembered a bit about the ins and outs of luxury travel from back when Lion Tales used to be more of a travelogue than a seamy underblog.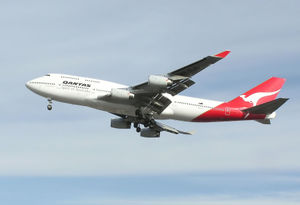 One thing I know is that there's a sooper-sekrit way to fly business class for much less than the cost of a round-trip ticket. There are three ways, actually, but the first isn't secret: use miles. I have a zillion miles saved up from back in the day but unfortunately Qantas has very few award seats available so that wasn't an option.
The second way is to use American Express's two-for-one deal. With the Centurion Card I can take a companion for free if I buy a full-fare ticket. I've never actually used this program and it's not as good as it sounds because there's usually no need to pay full fare even if you're purchasing a ticket – you end up saving a bit, but not half. I could think of half a dozen uberbabes who would probably jump on a plane but I was aching to try out the third option.
Very loyal readers will remember my brother Mike lives in Thailand. I used to go see him every year but recently something seemed to come up every winter (oh yeah, poker tournaments). Now that I'm not playing World Poker Tour I made a point of going up for a visit this year. That brings us to the sooper sekrit. You see, airlines make an obscene amount of money on business-class and first-class tickets. They make so much that they could sell the seats at half the price and still make a profit. But they won't, since they are primarily purchased by business travelers who are not nearly as price sensitive as leisure travelers. How, then, to sell the empty seats to leisure travelers without undercutting their own market?
Make the leisure traveler fly around the world.
There's a special department at all of the OneWorld and Star Alliance airlines called the "Around the World desk." By requiring an itinerary that is too restrictive for most business travel, airlines can sell these excess premium seats to leisure travelers without cannibalizing the lucrative business market. I gave American Airlines a call and got a quote on a Circle Pacific fare from the USA to Melbourne to Bangkok and back to the USA. I asked how much for first class and it was still $1000 less than the round-trip business-class ticket. Sold.
So I'm here in my personal one-bedroom suite aboard Qantas 94, three hours out of Melbourne. I had been warned the service was friendly but Spartan on Qantas and that's what it was: no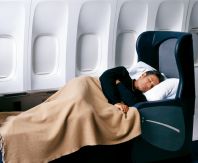 super-premium wines or liquors, a decent dinner menu, and three very friendly flight attendants. I tried three different Australian reds and settled on the 2003 Stonier Reserve Pinot Noir. They have a nice selection of video choices but I spent most of the flight sleeping like a baby in my flat bed with Daniel Negreanu in the seat behind me. David Singer and his beautiful girlfriend Mandy are back in the business-class cabin but most of the Full Tilt team took the same flight yesterday.
I'll stay in Melbourne until I bust out of the main event, which starts the 14th, and then jump on a sooper-sekrit Cathay Pacific jet to Bangkok. Shh.