The last day Mike and I went to the Chiang Mai night safari, a zoo that has tram tours at night of animals in their natural habitats. During the day it's a self-guided walking tour through a pretty nice little zoo.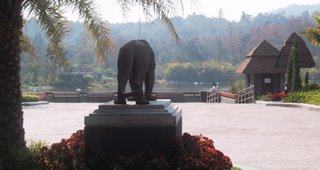 We were the only ones there and had a leisurely stroll past monkeys, big cats, and capybaras. Of course we did the final cocktail hour and repeated the hotel restaurant, paying for it this time. Once again the Indian food was the star of the show.
In the morning Mike came by for breakfast and we said our goodbyes as the hotel's Mercedes gave me a complimentary trip to the airport. I enjoyed the wifi in the Royal Silk lounge before my business-class flight to Bangkok, which cost less than drinks with Kitty, and in an hour I was at the new airport meeting another Mercedes to take me to the Westin Sukhumvit, which I had booked using Starpoints for the night.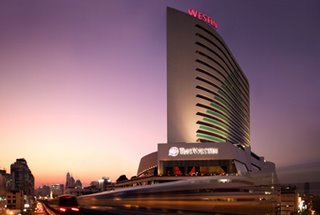 The Mercedes was a bad value, costing 2100 baht when a perfectly good Toyota available through AOT in baggage claim was only 900 baht.
At the Westin they treated me like a king because of my Platinum status, whisking me up to the executive lounge to check me in. They had a fabulous cocktail-hour spread and free wifi in the lounge so I camped out and played a little poker while I chowed down on chicken tikka and sipped Cabernet. I wanted to try out the new subway so I took a ride to Rachadaphisek to check out the entertainment district there with its super-high-end massage parlors.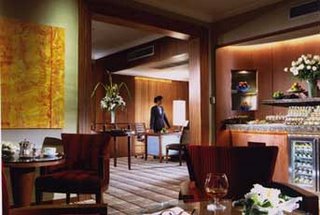 Unfortunately it wasn't at the Rachidaphisek stop on the train – pretty much nothing was there. I asked a taxi driver and he said they were all closed already so I took the train back. Bangkok is full of incredibly expensive stuff that I can never figure out how anyone can afford. This subway was absolutely world class, with high-tech RFID tokens, sliding glass doors, and trains running smooth as silk.
In the morning I took the 900-baht Toyota (they insisted on my choosing between a Toyota and a Nissan) to the new airport and discovered my Cathay Pacific flight was delayed and they had put me on a Thai Airways flight so I wouldn't miss my connection. The Thai flight actually had a first-class cabin and I tried to talk them into putting me there since I had a first-class ticket but it was not possible. Upstairs in the business-class cabin of the 747 was just fine for the short flight. It was all for naught anyway because when I got to Bangkok my onward flight was also delayed. I never minded hanging out in The Wing, though, and munched some sushi and sipped Champagne while I waited.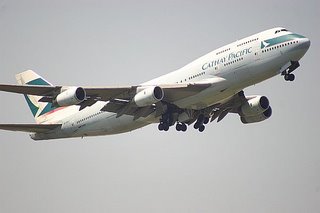 Finally I got on the 747 to LAX. First class was half full and I had two orders of caviar and a bowl of soup. The food on Cathay is so good I don't feel the need to eat seven courses like most airlines serve you in first class. I just pick and choose what I want and enjoy it. Everyone in F slept most of the 11.5-hour flight, including me. I awoke two hours before landing, had two more orders of caviar and black coffee, and prepared to deal with missing my onward connection on US Airways, I wasn't too worried since the worst possible case was having to buy a new $99 ticket on one of the 14 airlines that flew between LAX and LAS every 20 minutes or so.
We landed a bit over an hour late and I breezed through customs. I walked in the cool Southern California air to terminal one, seamlessly got put on the next flight to Vegas, and even scored a last-minute upgrade. I arrived at Caesars Palace almost exactly 24 hours after I had woken up in Bangkok.