Although January was certainly high season in Chiang Mai, the idea of every hotel in town being booked was foreign to both Mike and me. We walked around town, asking at all the nice hotels if they had a room for the next five nights. The answer was always the same: "Sorry sirrrrr…fully booked!"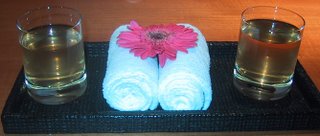 Finally we went over to the Chedi hotel, a new, ultra-high-end joint on the bank of the
Ping
river with availability showing on the Internet starting at the Thai-diculous rate of $333/night. Chedi is a Singapore-based chain with a dozen locations around Asia, two in
Thailand
(the other is in Phuket).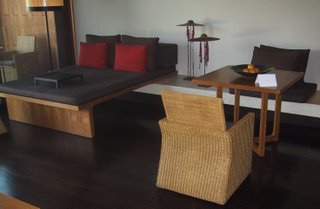 The place was spectacular. It was built in open style on two to four levels. Everything was teak, water, and candles. There was a world-class spa and fitness center with TechnoGym equipment, same as Caesars Palace. The club lounge, bars, and restaurant all had indoor and outdoor seating and spaciously separated tables. A small lap pool with chaise longues overlooked the Ping. I was home.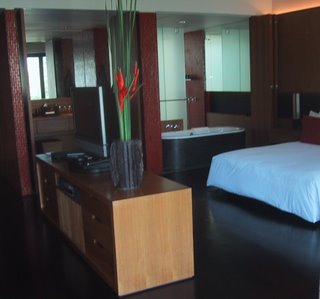 We had them show us a room, which was small but beautiful, and then a Jacuzzi suite, which was nicer than most of the places I stay in Vegas. We took a half-hour of the bellman's time to tour the place and ultimately I decided to get a suite for five nights on a promotional package that included more extras than I'd ever seen: free full breakfast daily, one free dinner for two including house wine, free cocktails and canapés every night, tapas at the bar one night, free use of minibar restocked daily, in-room espresso maker, and two comps that are tough to get even in Vegas: free Internet and free laundry. I asked for a view room on the top floor but the entire fourth floor was reserved for the princess and her entourage, checking in later in the week, so I settled for the third floor.
The hotel problem solved, Mike drove me in his turbo Toyota pickup to one of our favorite restaurants in Chiang Mai, the Galae. This outdoor thai restaurant, at the base of a mountain just above a lake, specializes in seafood and has a table permanently reserved for the king. They had a good wine list for a Thai restaurant and I ordered an inexpensive Australian Shiraz to toast Maria Sharapova.
The next day at 2 p.m. I moved into the suite at the Chedi and headed for the gym to work out before cocktail hour. I was the only one in the gym and a Thai attendant stood by, I guess ready to catch me if I fell off the elliptical machine. I relaxed in the suite, tried out the shower, which had both rain bath and European shower heads, and met Mike in the club lounge for cocktail hour. Three attendants were there to wait on one or two tables. They brought us some nice canapés and offered us a choice of drinks, including a dozen wines by the bottomless glass. I drank the Bordeaux all week while Mike settled on the Shiraz.
We took our comped dinner the first night and it was incredible. The menu was Thai, Indian, and European, but at the suggestion of the German intern who was working there in a supervisory role, I had a fantastic Indian dish, chicken Tika. Mike and I agreed this had to be one of the best meals we'd had in Thailand. We sat out by the river, armed with mosquito repellent placed on every table, and listened to a Thai piano player who had quite a bit more skill, and better repertoire, than the one at the Sheraton. I asked when they were opening a Chedi in Vegas.