In the morning I took the elevator down to the lobby to meet Mike and discovered the place packed full of checking-out guests. A Thai pianist was playing Carpenters songs badly. Mike came in and we breakfasted on the included buffet, same as I remember it from five years ago.
The weather was perfect throughout my visit. Thailand has three seasons: hot, rainy, and cold, and the cold season is the only reasonable time to come. In Chiang Mai, in the north of Thailand, evenings actually got a bit cool sometimes and it was rarely too hot during the day.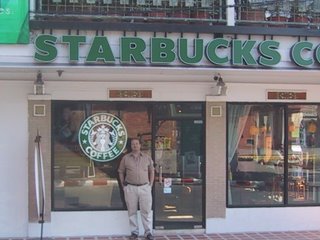 Mike played the five-star tour guide, taking me to an out-of-the-way Issan restaurant for dinner. At my request we tried the local fish – chon and thap tim -- which were wonderful. Thailand is full of inexplicable cross-cultural elements and when I asked Mike why this restaurant had sketches of American Indians mounted on pillars, or why there was a set of deer antlers hanging over the kitchen, he just smiled.
We went to buy me a cheap cell phone to use in Thailand and ended up in a mall that had at least 20 cell-phone stores, some selling new phones and some used.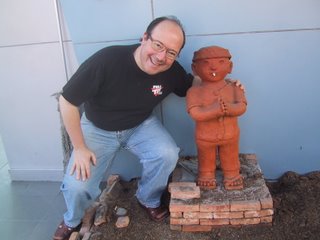 I got a $50 Nokia and 250 baht worth of service which, at one baht per call during the daytime under their promotion, would last well beyond the week. In most countries other than the US, incoming calls are free, so I had no worries about running out of minutes.
Chiang Mai is more of a livable city than a destination for foreign tourists but like Bangkok and Phuket it has lots of bars. The gogo bars are much like men's clubs in America except the girls don't really dance and they don't even go topless; they just sway around in bikinis or underwear. There are no lap dances and no rip-off VIP room. Of course 100% of them are hookers whereas in America it's closer to 50%. In addition to gogo bars, the streets are lined with beer bars, much more casual venues but still with hookers.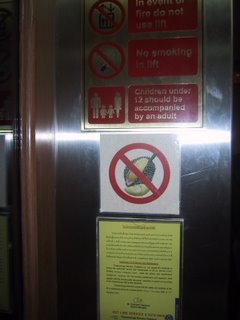 One of them was called "Sexy Poom Pui" (pot belly), clearly designed to attract a certain class of clientele. Mike took me on a tour but after five trips to Thailand these all blended together in a chorus of "hello! how you?"
Mike took me back to the Sheraton but there was a partial power failure and they weren't letting anyone up the elevators. After 15 minutes or so the problem cleared up and I ascended the tower. They still had the sign pictorially prohibiting the smelly durian fruit in the elevator. Mike's condo was being renovated so we decided to stay in Chiang Mai the entire visit. Astonishingly, though, almost all the hotels were fully booked, including the Sheraton. We'd have to address this situation tomorrow.