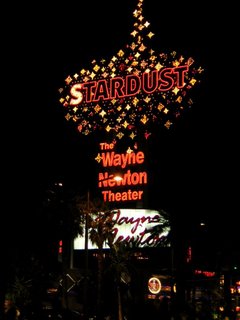 With the imminent implosion of the Stardust, the Las Vegas landmark where I gambled through the night the weekend I turned 21, it gets harder and harder to find in Sin City the dirty, gritty experience loyal readers demand of my seamy underblog. So with a scant few days on the calendar until my big Circle Pacific trip, I pinged Kyle and asked if he wanted to hit Reno for the weekend. He made a courtesy call to his financial backers and then booked a flight.
Kyle got into Reno a couple hours earlier than I did so at my suggestion he took the shuttle to the Grand Sierra (formerly Reno Hilton) and played some poker. When I landed I rented a Ford Explorer from Hertz and picked up a grinning Kyle in front of the Sierra. He was up just a little in the ultra-loose 3/6 Hold 'Em game but it amused him no end to see people call a river bet and turn over Jack high in a six-way pot.
It was a quick hop to Harrah's, where my buddies and hosts John and Gabe had put us in the Ambassador Suite. We did a walking tour of downtown Reno before dinner. You want seamy? Virginia Street has been torn up for years, cyclone fences and detour signs routing cars and pedestrians in serpentine patterns. Buildings are boarded up. Soot stains drip from windows of burned-out edifices. The "O" is dark atop city hall, which proudly proclaims "REN." Casinos, bars, and strip clubs populate downtown in the Biggest Little City in the World. We looked out the window of the Ambassador suite and drank it all in.

Gabe and John took us to the steakhouse, where the food and service excelled as usual. We started with an Amarone while the 2002 Phelps Insignia decanted. I'd been a good workout hound so I decided to indulge in the escargot and filet mignon, with a table-prepared Caesar salad in the interregnum. After dinner it wasn't hard to drag the boys to the FQ Men's Club, scene of my
recent geek-girl encounter
, but my hopes of a repeat night of fantasy turned out to be chimerical. Once again the place was filled with hotties but most of the ones we talked to quickly lost interest when we declined the "VIP room" treatment, where you get to pay $250 for a half-hour of lap dances. "And we also accept tips," one hustler said.
The exception was a sweet 21-year-old with a sunny smile named Summer. She just plonked herself down next to Kyle and hung out with us, ordering sushi for herself while I smoked a cigar.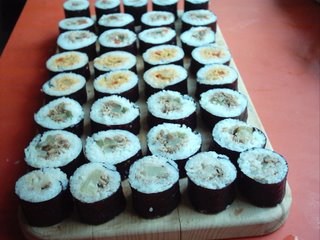 Yes, that's right. Strip clubs and brothels are now the only place in Nevada where you can smoke and eat at the same time. Summer sat with us until it was time for her act, which we watched appreciatively.
My second visit to FQ confirms it sports much hotter strippers than most men's clubs I've been to. Without that magical geek connection, though, we left the club at a decent hour and returned to the Ambassador Suite to find Kahlua nips waiting for us in our respective bedrooms, along with a bountiful gift basket in the living room and a cornucopia of undrinkable Pepsi products in the refrigerator. I really hope the new owners of Harrah's sell the company to Coca-Cola.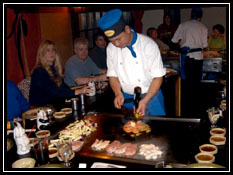 Saturday we had lunch from the coffee shop menu in the Italian restaurant because the coffee shop was closed for renovation. Unlike Vegas, where most of the resorts have some healthy choices on the menu, Harrah's Reno had all-carb all-fat all the time. I had a greasy sandwich and then went to the gym to work out. Kyle and I played a little 3/6 Hold 'Em at the El Dorado and watched the Seahawks stumble to victory before Gabe took us for dinner to Ichiban, the excellent Japanese restaurant in the hotel. There we had a bottle of Mikune "Root of Innocence" sake. It was good but no Divine Droplets. We had the teppanyaki, done well in standard style, and then Gabe invited the two lesbians sitting next to him to join us at the topless show "Rock My Ride."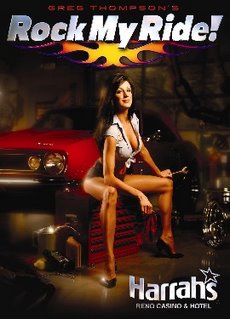 They happily assented and we all huggled into a VIP booth to watch the show. It was a standard topless revue with the exception of a very long and tedious puppet act. The dancing girls were beautiful and only one had implants.
After the show Gabe suggested we hit the trendy new nightclub in town,
210 North
. For the hottest club in town on a Saturday night, it was pretty dead. I spent a fair amount of time trying to order Scotch from a ditzy blonde bartender who didn't know what "neat" meant but I ended up with a yummy Bowmore 17. We split that popsicle stand in short order but on the way out a young man exclaimed, "You're that poker guy!" He emoted as if I was his long-lost brother for the better part of a minute and I left him with a smile and well wishes.
We returned to Harrah's and the lounge there, Sapphire, where two of the dancers from Rock My Ride were relaxing and two young nurses from California were exuberantly dancing. The nurses grabbed me for a dance but Gabe was waving me over to the show dancers' table so I extricated myself and left Kyle to take care of the nurses. Victoria, the redheaded dancer from the topless show, introduced herself and said she bet I didn't recognize her because she was wearing a wig in the act. I bet her I could think of a way to recognize her and she said, "I'm not showing you my boobs!" "Seen 'em," I said.
We closed down Sapphire and then all went to a gritty, seamy local hangout called Keystone Cue and Cushion, a combination nightclub, diner, and pool hall. "The strippers come here after work," Gabe said. We went to the bar, where smoking was no longer allowed although management didn't care if you did – at this point any potential enforcement is simply a $100 fine for the smoker. They did, however, have to remove the ashtrays so you needed a glass of water if you wanted to safely park your ashes. Gabe and the dancers all knew the bartender, Kenny. Victoria filled me in: Kenny had been diagnosed long ago with terminal cancer but had long since outlived his expiration date so he was just taking each day as if it were his last.
We played a little eight ball while Gabe sipped a drink and waxed philosophical to Kyle and Kenny. Then came the news that Kenny needed a ride to the hospital because he was suffering blackouts, but he would wait until his relief came. Apparently this was not an uncommon occurrence. Everyone seemed cool with it so we returned to our pool game. No one was keeping track but I went undefeated.
We had flights the next morning so I reluctantly returned to the Ambassador suite while the 21-year-old Kyle stayed up all night flirting with the dancers and listening to Gabe's progressively existential philosophizing. For some, a weekend in Reno may be too long. For others, it leaves you wanting more. Either way, you want seamy? You got it.