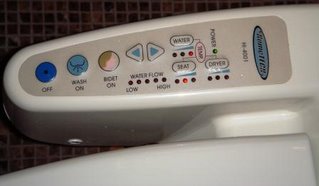 I tore myself away from
Caesars
Palace
without getting up the nerve to try the new high-tech ubertoilet they had in my
Augustus
Tower
suite (but only in the powder room). Rather than hop back to
Seattle
in between trips to Vegas and
Reno
, I jetted over to LA to spend a couple days with my uberhot new sweetie Jenni. I forgot it was the Grammy awards but I found a room at Le Meridien.
Jenni had sent me some old photos, including one I really liked of her taken some years ago in a plaid dress sipping a cosmopolitan. That inspired me to take her to Mastro's steakhouse in Beverly Hills, one of my favorite restaurants and, to my surprise, one of hers since she has been a vegetarian her whole adult life. "Mmm…sides!" she said, and made the reservations. She surprised me by wearing the same plaid dress and looking fantastic. Well, that didn't surprise me.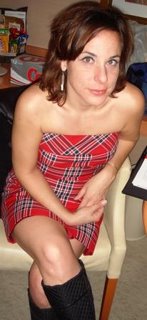 We left the $30/day valet parking at Le Meridien and arrived at the $7 valet parking at Mastro's. I asked for the super-double VIP presidential table and they escorted us upstairs to a nice large table far away from the piano player, which is a good location. I got the Chilean sea bass, which I go in and out on loving but I seem to be in a loving phase. We shared a cornucopia of sides including the wasabi mashed potatoes and sugar snap peas.
The cocktails at Mastro's are huge – I'm guessing about 10 oz. once you refill your glass with the extra they always bring. Jenni tried a "flirt," a trendy new drink made with vodka, Chambord, pineapple juice, and Champagne. I got a Tanqueray 10 martini with blue-cheese-stuffed olives. The live music is a bit too loud upstairs and the tables are too close together downstairs, but other than that I love the place.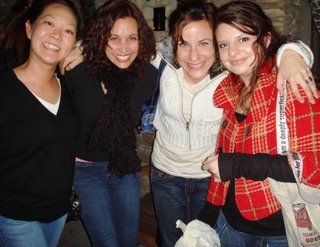 The next evening Jenni suggested we hit Sushi Roku with her roommate Christine, friend Diana, and one of her beautiful 18-year-old twin sisters, Alejandra. No, I'm not making that up. Diana picked us up at Le Meridien and drove us to the restaurant, but when I got there I realized it was only two blocks from the hotel. Welcome to LA! Ale and Jenni ordered veggie and the other girls let me order for them so I selected a bountiful fish feast and a bottle of cold Harushika sake since they didn't have the Divine Droplets. Harushika used to be my favorite but D.D. ruins you for all other sakes.
Later, we smoked on the comfy sofa out front of Le Meriden and felt the cool Southern California air on our skin. Tomorrow I would fly into the heart of my favorite soap opera: Reno.