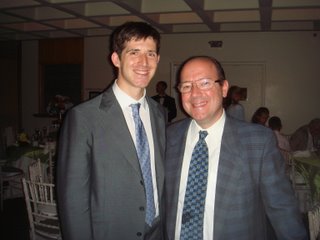 Last time I flew to the City was Sept. 21, 2001 – ten days after 911. But since I was flying east anyway for the wedding of Matt "HOSS_TBF" Hawrilenko in Princeton, NJ, I took the opportunity to sandwich two slices of New York rye around the meat of my trip.
I like to spend as much time with Hoss as I can in hopes he'll accidentally let slip some information I can use to improve my preemptive bluffing frequency in multi-street games. OK, so he's also one of my favorite people in poker. But then everyone loves a winner. Even if he got beat by a bot.
(Hoss barely lost the second of two 500-hand matches to the Polaris program but beat the bot handily in the first such match. I point this out because Matt enlisted his entire extended family, including his new inlaws, to badger me until I unsullied his reputation. So there you go. You try to do someone a favor by advertising he's a fish, and this is the thanks you get.)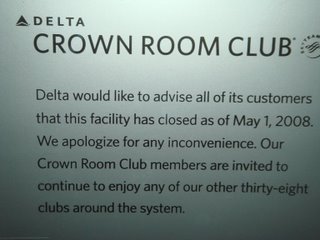 I used up the last of my Delta miles to fly business class to JFK. The airlines have fallen on hard times. Delta closed its Crown Room in Seattle, as I discovered when I took the elevator up to where it formerly was. Fortunately, terminal A had a stained-glass lion for me to look at while I waited for the on-time boarding.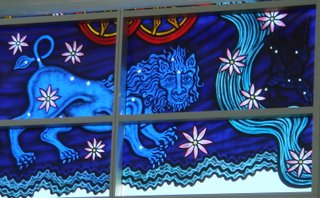 Meal service in the forward cabin of the 757 was one tray of food followed by ice cream for the six-hour flight. My personal entertainment system didn't work, but if it had, there would have been a nice selection of movies and TV shows to watch. The one high point of the business-class service was a nice selection of not only premium liquors, but also four specialty cocktails. I had a pomegranate martini toward the end of the flight. We landed early.

I had booked the W Union Square for the first night, the same hotel I stayed in right after the attack. They upgraded me to a Spectacular corner room (that's actually what they call it at W hotels – I believe the worst room is Wonderful) because of my Starwood Gold status. The front desk had a bowl of complimentary green apples and in the morning water infused with herbs and fruit. Parking was a whopping $60/night.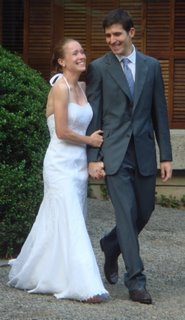 I dropped the bags and hustled over to A Voce, where I had an 11pm reservation. This casual Italian restaurant came highly recommended for fabulous food and service and did not disappoint. The wine list featured Italian selections and I got a beautiful $75 bottle of Sicilian Nero D'Avola to go with the octopus appetizer and pork chop entrée.

In the morning I headed out to Princeton and checked into the Nassau Inn, a charming hotel in the heart of town. Matt and Emily, his fiancée, hosted a barbecue in a beautiful old house by a pond. Amazingly, no poker was played, although I did manage to have my team squeak out a win over a couple of bocce-ball pros. I was trying to hustle them into a croquet match because they probably didn't know about my 2003 bracelet at the World Series of barbecue, when I beat Ted Forrest heads up for the championship. Never having played bocce ball before, I had to rely on my natural athletic ability, which fortunately came through.

Hoss got hitched the next afternoon in a beautiful atheist ceremony. It's exciting to me to live in a time where people don't have to pretend to believe in fairy tales in order to keep from being killed by mobs. Well, it hasn't quite spread to American politicians but I'd lay odds Obama doesn't believe in the man with the beard even if it would be political suicide to admit it. The community of winning poker players is full of atheists. It's tough to be a winning poker player if you like to believe in magic instead of reality.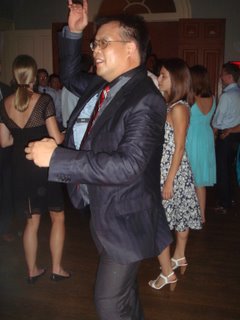 Matt and Emily served a nice Cabernet Franc at the reception but with blueberry martinis available it was hard to decide on a libation. Given the geeky circle of friends, at least on the groom's side, the happy couple provided foosball, air hockey, and a crane machine all set on free play. It's rare for a wedding reception to be more than a heartwarming celebration of love and friendship, but this one was actually fun. Party animal Bill Chen, winner of two WSOP bracelets and co-author of
The Mathematics of Poker
, let loose on the dance floor as usual, showing why he's always the favorite of the ladies.

The next morning, after a Matt & Emily slide show and a quick discussion of quantitative analysis in hedge funds with the Susquehanna crowd, I returned to Manhattan for one more night, this time in the Westin Times Square. I love large, impersonal hotels and Westins fill the bill (although now that they are entirely non-smoking they aren't an option if I'm in the mood to have a cigar in the room). Once again I got upgraded to a corner room and parking was only $48.
I had tickets to the matinee of Xanadu, a 90-minute romp based on the really great score from the really bad Olivia Newton-John movie. I had great seats but I didn't realize you could actually sit on the stage, which would have been fun. Broadway shows have gravitated toward the 90-minute Vegas standard, presumably in deference to shortened attention spans in today's audience, including myself.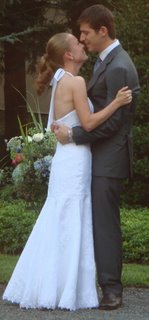 Every time I go to New York I like to have a drink at the rotating bar at the Marriott Marquis, which my best friend Steve introduced me to years ago. The rotating bar used to be on the eighth floor. While there is still a bar there, it no longer rotates. Fortunately, the View lounge on the top floor does! I had a couple Woodford Manhattans and toasted Steve as the city turned about me for an hour.

For dinner I had booked Aquavit Café, a traditional Swedish restaurant featuring lots of smoked fish and infused spirits (aquavits). My favorite infusion was the horseradish! Dinner was delicious and the young waiter was charming and gave excellent recommendations without being either fawning or brusque.

I was booked on the 8pm flight back to Seattle but I got to the airport at one to stand by for the 4:40 flight. Delta wouldn't let me check in until six hours before flight time, but I had a brilliant idea: I whipped out my laptop and Verizon card and checked in online, which you can do 24 hours before the flight! Then I went to the kiosk and tried to reprint the boarding pass. No dice! I couldn't even reprint until six hours before flight time. Foiled again. I played Scrabble online until two, then got the boarding pass, stood by for the 4:40, and went to the Crown Room.
Delta's standby and upgrade system is completely automated. A monitor at the gate displays the waiting list in order and notifies you when you clear. The flight was delayed 90 minutes and I sat at the top of the standby list until just before departure when I heard my name being called. Success! I got a seat with a working entertainment unit and was on my way back home.

The meal was once again a one-tray affair but I salved my disappointment with several Herradura margaritas. After the meal, the flight attendants ignored the 26 business-class passengers for about three hours but grudgingly served drinks if I came up to the galley and begged. They did come around with water just before landing. I guess they stopped calling it first class for a reason: it was definitely not a first-class experience.

The early flight, although late, gave me an extra few hours of sleep before leaving in the morning for Vegas and BARGE. I watched the late Seattle summer sunset, imagining Hoss and Emily riding off into it.