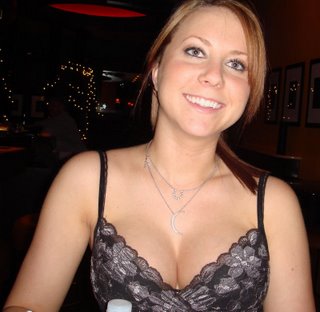 I had snapped a photo of her on the job running cocktails at Sapphire, the lounge at Harrah's
Reno
. Her uniform top looked like it came from
Victoria
's Secret and the way she filled it out it wasn't going to stay secret for long. So when Gabe said he had plans with Sarah tonight but did I want to come along I didn't think too hard before inviting them both to join me at the White Orchid, the gourmet restaurant at the Peppermill.
"I like those uniform tops you wear at Sapphire," I said to the 22-year-old over a trio of tuna tartare and a bottle of 2005 Rombauer Chardonnay.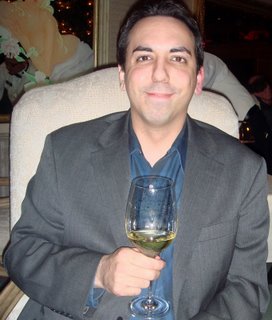 "Those aren't a uniform," she said. "They like us to dress edgy." I imagined her fishing through her lingerie drawer looking for something to wear to work. I took a gulp of the Chardonnay. Edgy worked for me. We decanted the 2002 Darioush Cabernet to drink with dinner. Sarah had peppercorn New York steak and Gabe and I had the elk, medium rare.
"Is elk some Reno thing?" asked Sarah. She had grown up in Las Vegas and moved to Reno to go to college. People ended up in Reno for some reason or another. Sarah was half-Jewish, half-Lutheran and straightened her hair every other day to keep it from becoming a cascading mass of dark curls. I would have liked to see the curls. There was a lull in the conversation so I asked her if she had ever worked as a stripper. She smiled and shook her head.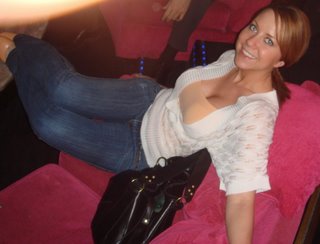 "I did do a pole dance once on amateur night," she said. "But I was flipping my head around and crashed it into the pole." I could see how that might bring an end to a stripping career. "I have some friends who are strippers," she said. "You know the worst thing about the job isn't the customers – it's the other girls." Apparently it was a very competitive business and some of them played dirty.
It was 9:15 Sunday night in Reno and we closed the place down. It's not that there wasn't a lot of action in the Biggest Little City in the World – it's that gourmet restaurants weren't where it was at. But Sarah knew about a little lounge tucked away in the back of the Peppermill called the Fireside Room. She led. We followed.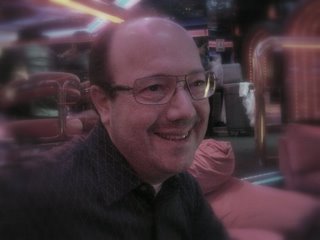 Like the rest of the Peppermill, the Fireside Room was decorated in lights and colors that were trendy in 1980, either a tribute to the death of disco or what actually killed it. We sat at the large circular booth surrounding the gas fireplace and ordered a 60-ounce scorpion with three straws. The waitress was Brazilian. There was some kind of nutty hotel exchange program going on and Reno was full of Brazilian waitresses for two weeks. She asked if we wanted the scorpion blended or on the rocks. I said rocks and she brought it blended with a quart of whipped cream on top. It tasted like a strawberry daiquiri. I wondered how the Reno girls were faring in Rio de Janeiro.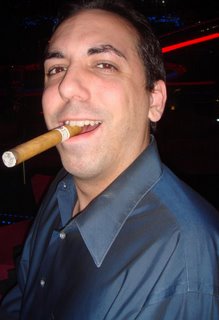 I had brought a couple of Dunhills so Gabe and I lit up and enjoyed them by the fire. We ordered another scorpion, on the rocks this time. By the time we finished the cigars, Sarah was too warm and wanted to move to a booth away from the fire. There was a thin man sitting alone there so we asked if we could share and he said fine. His name was Chris.
I asked Chris if he lived in Reno and he said no, Nevada City. I pretended I knew where that was. Sarah actually knew. I asked what he did.
"Actually, I'm having some health issues right now and I'm not working." I looked him over and offered that he looked healthy. "They're not visible," he said. "I have about a year to live." Chris had aneurisms in a couple places on major blood vessels. They could go at any time.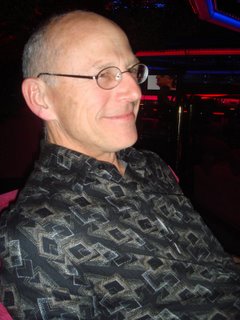 Sarah hailed the Brazilian and asked for a cocktail menu. Without needing to ask what any of us wanted, she ordered two huge drinks that looked like they came from an ice cream parlor for Gabe and Chris, a pomegranate margarita for herself and a pomtini for me. I guess when you run cocktails for a living you get to know what people drink.
Chris said, "I'm trying to decide right now if I want to have an operation. There's only a 20% survival rate, but if it works—" He motioned like a plane taking off. "I'm good indefinitely."
I asked if he had found the very best doctor in the world for his condition.
"There's a guy in Texas," he said. "He's done 300 of these. My doctor's only done two. I would be his third." He looked down. "And his second survival."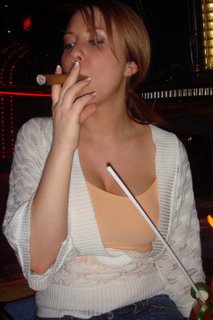 "Doctors are like auto mechanics," I said. "For this, you don't just want someone competent. You want the best in the world."
Chris nodded. "Funny," he said. "I used to be an auto mechanic. I worked on Ferraris my whole life."
"Then you understand," I said. He nodded.
Sarah asked if Chris would take a picture of the three of us. He did.
"Ferrari will take me back at any time," he said. "If I get this health problem handled I'd like to go back to work. There's an opening in Seattle."
The Brazilian came to tell us she was leaving and had to close out the check. It was late anyway.
"I live in Seattle," I told Chris, and gave him my name.
"When you get there," I said, "look me up."