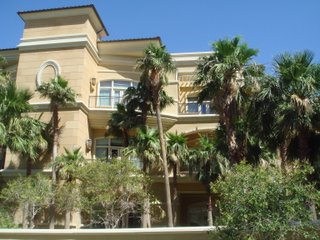 Once the
Harrah's
bigwigs finally figured out I wasn't some kind of criminal mastermind I was free to play at the 2007 World Series of Poker and even get a room at the Rio, although not quite up to the standards of the
Palazzo
Suites they put me in last year.
I planned to get the Rio room if I made it deep in the main event, but other than that I was staying at the Wynn, where I have a special deal: I don't win and they don't kick me out.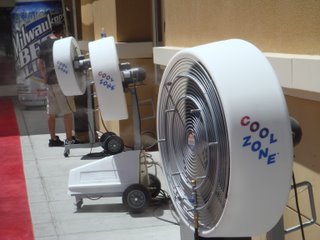 The big improvement this year wasn't
Harrah's
doing: Nevada made smoking indoors illegal, except for casinos, bars, strip clubs, and brothels. As a result, the noxious clouds were even farther from the action than last year. People were supposed to go outside to smoke, and largely did. They even had big fans to blow the smoke away.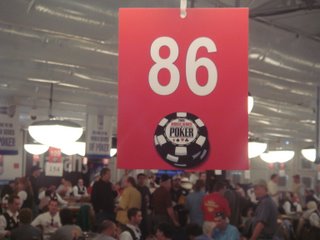 I never did get a straight answer as to why
Harrah's
86'ed me. As soon as I got to talk with Tom
Jenkin
, who is in charge of all the Vegas properties, he immediately realized it was a mistake and reinstated me within hours. My suspicion is that some managers within Caesars Palace simply did not want to risk my hitting even more big jackpots and making their numbers look even worse.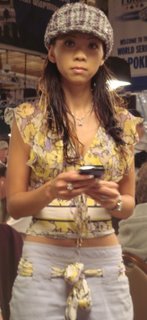 But really, to send me a certified letter warning me off the premises when I'd been coming to Caesars Palace for 25 years without a problem -- it just boggles the mind. But Tom assured me nobody thought I did anything wrong and if I hit four more royal flushes tomorrow, I'd be perfectly OK with him.
So that being settled, I went on to enter 10 of the preliminary events. I played with some cool people, including Ross "Rocky" Boatman, Liz Lieu, and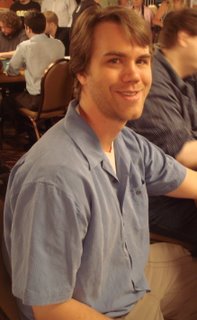 Andrew
Prock
(right), author of the excellent
PokerStove
software. We had met last year at
BARGE
, but previously had exchanged posts on rec.gambling.poker in which he had referred to me as a "rich dilettante." I corrected him, as I prefer to be called a rich,
arrogant
dilettante, and he graciously assented.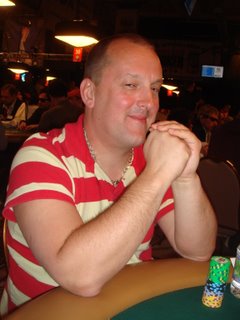 Andrew is a pleasure to play with, witty and trenchant. I hope to be on his left next time.
The tournaments were grueling. I like to play poker for a few hours, not all day and all night, but the schedule demanded play until two or three in the morning every day, provided I was still in, which I often was.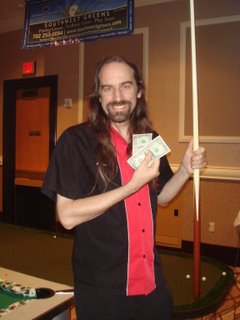 I don't know how guys like Chris "Jesus" Ferguson, shown here after winning a high-stakes pool match, have done it year after year. Frankly it reminds me of my time at Harvard: I loved being around the people if only I didn't have to put up with all those damned classes.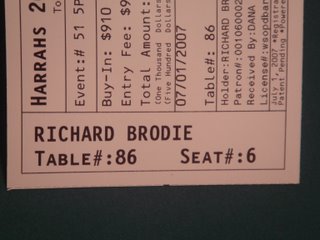 Other than an amusing table assignment one day (left), most of the events felt more like drudgery than fun. Of course I'm sure if I ever made a final table that would be a lot more exciting than busting out after 10 or 15 hours of play with nothing to show for it but a $10 food comp.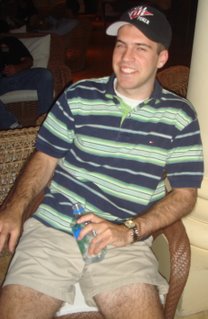 I staked my 21-year-old buddy Kyle Ray to his first
WSOP
event, the $1500 mixed hold 'em, and he brought home a nice cash. He's a very serious student of the game and I expect great things of him.
What I was looking forward to the most was hanging out with the math team: Bill Chen and Jerrod
Ankenman
, who co-authored the bible of game theory as applied to poker,
The Mathematics of Poker
, Terrence Chan, and Matt
Hawrilenko
. These guys are all phenomenal poker players and a lot of fun to hang out with.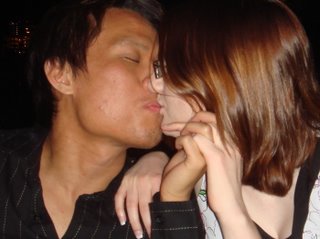 I had dinner with Matt, Terrence, and Terrence's new girlfriend
Laren
at the Country Club at Wynn. Country Club may be my favorite restaurant in town now.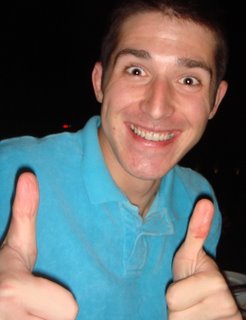 They do the steaks charcoal-broiled with a salt rub, but given that I'm eating healthy these days I appreciate the one or two fish dishes they always offer. The service is personal and attentive and the wine list, like the menu, is small but very high quality. We had the last bottle of the
Penner
-Ash
Syrah
. Matt approved.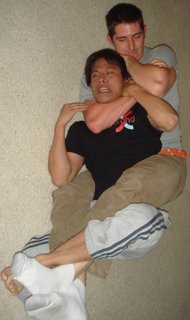 A few days later I made it over to the math team clubhouse, where I hoped to learn something about poker but instead played pool and watched Matt and Terrence engage in the manly sport of wrestling.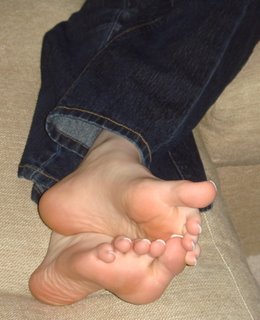 I met Mike
Fong
, who was sharing the house with the math team although he hadn't yet established credentials as lofty as the others. We bought a chip set from the Rio and practiced HORSE, showing our cards at the end of each hand for commentary. I got a nice shot of
Laren's
feet.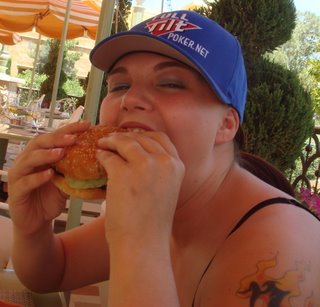 The main event was almost a non-event for me. I came within a few chips of doubling up and then ran out of luck, busting on the first day when 3/4 of the field hadn't even started playing yet. That gave me the weekend to relax and unwind at the Wynn before I flew home.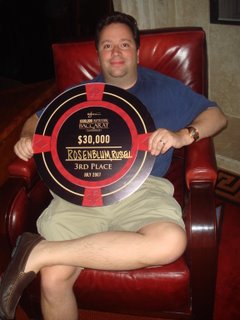 The more I stay at the Wynn the more I think it's by far the best hotel in town, not just for the facilities but for the excellent service top to bottom. Nichole (above right) enjoyed her first Kobe burger on the patio at Tableau while I entered an invitational Baccarat tournament for casino high rollers.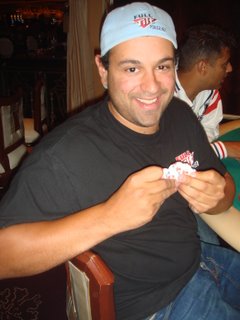 I bombed out but Russell
Rosenblum
(left), one of the smartest and nicest guys in poker with one of the sweetest and prettiest wives, took his beginner's luck into third place for a nice chunk of change.
But the big surprise was the winner: Full Tilt pro Roland
de
Wolfe (right), whom I didn't even know played Baccarat. Roland is a frenetic, upbeat guy you just want to root for. He later tried to invite us to his birthday party but the elevator doors closed before he could tell us the details, almost snipping off his nose.
Tournament poker can be a road to heartbreak. Bill Chen told me a great player can expect to cash in one out of seven tournaments. If a bad streak comes, that can easily mean 20 events in a row without cashing. The math team didn't do so well this year. Last year Bill won two bracelets. Why do we do it?
I guess it's fun.
Two more pics of Nichole...she cleans up nice.